Odoo Vs ERPNext
Enterprise resource planning ( ERP) solutions are used by companies that struggling with the manual work and speedup the task, So they plan to control their corporate operations through a structured and automated framework. Odoo and ERPnext both are open source ERP solutions with a community of people working in the background to support its users.There are few difference between.Below is a tabular comparison between Odoo vs ERPNext with a focus on the features in their respective business modules. Please note that the following comparison is between the enterprise edition of both Odoo and ERPNext.
Supply Chain

Odoo Enterprise

ERPNext

Features
Supplier Management
Supplier Pricelist Management
Inward Quality Inspection
Drop Shipping
Purchase Requests (Material Request)
Purchase Orders
Purchase Approval Workflow
Contracts/Purchase Agreements
Request for Quotations
Supplier Self Service Portal
Manufacturing

Odoo
Enterprise

ERPNext

Features
Multi-level BOM
BOM Versions
By Products/Co Products
Make-to-Order
Routings
Sub Assemblies
One BOM for Multiple Item Variants
Material Request Planning
Production Calendar
Multiple Scheduling Plans
Gantt Chart Scheduling w/ Drag & Drop
Kanban Planning
Work Order Merging/Splitting
Finite Capacity Planning
Infinite Capacity Planning
Delivery Date Calculation (Backwards Scheduling)
Job Tracking
Work Order/Production Order
Work Order Operations
Work Instructions on Work Order
Messages on Work Order
Automated Time Tracking
Subcontracting
Rework/Repair
Scrap
Landed Cost Voucher
Production Order Costing
Actual Production Labor
Shop floor Terminals
Feature

Odoo
Enterprise

ERPNext

General
Multi Company
Inter Company
Multi Currency
Multi Language
Mobile Device Support
EDI (Electronic Data Interchange)
Inventory Management
Multi Warehouse
Storage Locations(Bins)
Stock Repleishment
Stock Repleishment
Freight carrier integration
Stock Picking
Manage Stock Levels
Non Stocked Inventory
Inventory Price Lists
Multiple Variants
Multiple Units of Measure
Auto UOM Conversions
Batches/Serial Numbers
Up/Down Traceability
Batch Picking
Serial No Picking
Inventory Valuation
FIFO
Moving Average
Barcode Support
QR Code Support
Quick Barcode Scan (Without 3rd Party Device)
Delivery Notes
Stock Transfers
Inventory Adjustments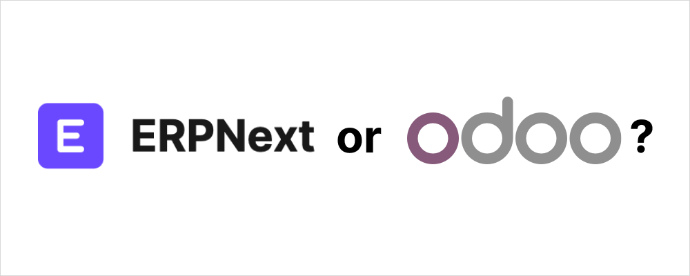 Discuss with Expert of Both?
Odoo vs ERPnext both are open source ERP but somewhere odoo is looking to win the match. To hire Odoo Developer click on it.